A Equilibrium Silver Pewter Pendant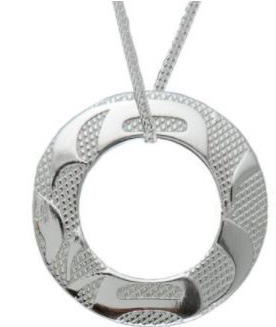 3CM DIAMETER, CHAIN 18"
This beautiful and elegant pendant by Corrine Hunt is made of a special silver and pewter alloy and is presented on a sterling silver chain. This piece has been 100% designed and made in Canada. The Eagle (Air) - A symbol of freedom and strength combined with grace. The down of the eagle cleanses the floor of the loghouse bringing peace to the community. Pendant is approximately 3 cm (1.25 inches) in diameter. Comes with a 46-cm (18-inch) silver chain with a lobster clasp. Same design series as 9999849882 Earrings Petite, 9999849881 Earrings Grande.
Product: #9999849880 Stock: 6&nbsp&nbsp&nbsp

Price: $45.95 EA